Medpacto, confirmation of efficacy in the clinical study on "Vactosertib" colon cancer & lung cancer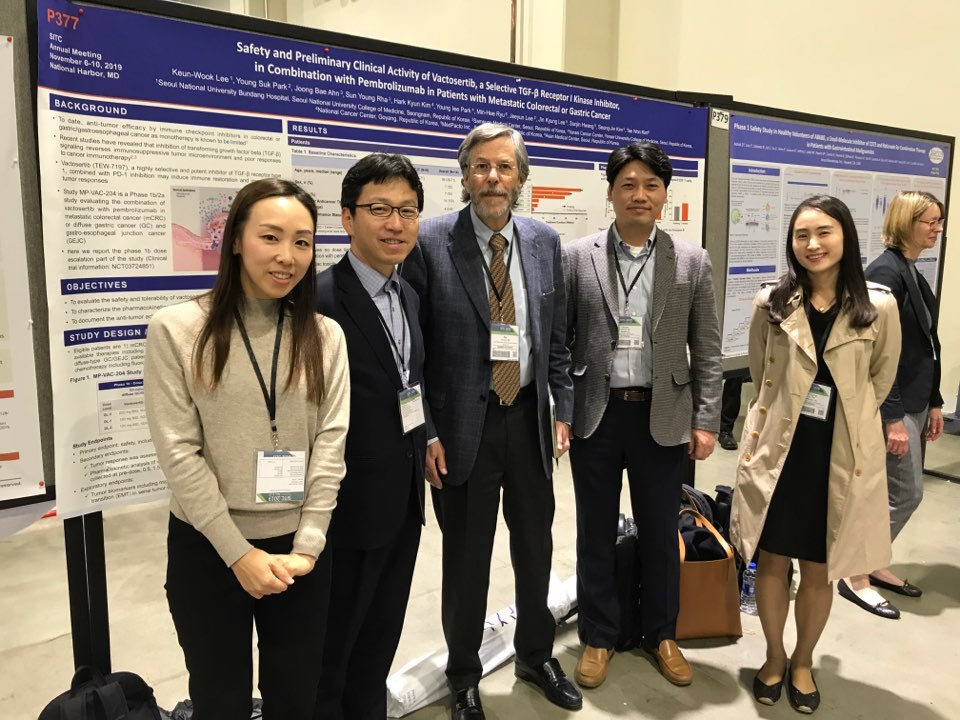 List
Medpacto, which is a subsidiary of TheragenEtex, officially reported the initial results of Clinical Test 1b∙2a of Vactosertib (TEW-7197).
While attending the "Society for Immunotherapy of Cancer (SITC) 2019" which was held in United States on November 10, Medpacto reported on their gathering of significant data from clinical tests that administer "Vactosertib," a new anti-cancer drug that is still being developed, as well as both immuno-oncologic agents "KEYTRUDA (ingredient name: Pembrolizumab)" and "IMFINZI (ingredient name: durvalumab)."
Medpacto obtained approval for Clinical Test 1b∙2a, which administers both Merck Sharp & Dohme's "KEYTRUDA" and AstraZeneca's "IMFINZI," in September and October, respectively and is currently conducting the tests.
First, Medpacto obtained 16.7% and 33.3% ORR (Overall Response Rate) from colon cancer patients who failed entire body anti-cancer treatment based on "RECIST" and "i RECIST" (primary and secondary anti-cancer activity evaluation indices).
Colon cancer patients who participated in clinical tests demonstrated a MSS genotype, which used to have a nonexistent objective response rate with just the monotherapy of "KEYTRUDA ".
In addition, a decrease in the colon cancer tumor marker CEA value (ng/ml) was observed in half of the patients who received "Vactosertib" treatment. This result implies that the overall tumor was effectively reduced as patients continued treatment.
Second, from a clinical test conducted on 15 NSCLC patients who failed white gold-based treatment, a 16.7% objective response rate was observed, even though the test was conducted on patients with an average age of 66 who demonstrated less than 25% of PD-L1 expression in tumors.
When considering the fact that the clinical test conducted on the same patient group demonstrated an objective response rate of 2.8% with just the "IMFINZI" monotherapy, the outcomes of treatment dramatically improved.
In addition, 24-week DCR (Disease Control Rate) of this clinical test patient group was 33.3%, which is 12.8% higher than that from an "IMFINZI" monotherapy clinical test.