TheragenEtex conducts 'genetic research on diseases after renal transplantation' organized by the Kyung Hee University Hospital at Gangdong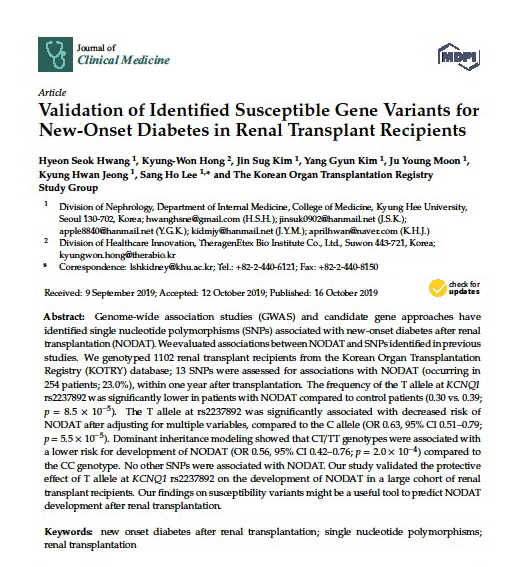 List
TheragenEtex Bio Institute, together with the Kyung Hee University Hospital at Gangdong, conducted research in order to discover and confirm genetic markers for the prediction of chronic diseases that can occur after renal transplantation.
The study was published recently in "Journal of Clinical Medicine," an international journal of clinical medicine.
This study was conducted on 1,102 patients and compared the genetic markers of patients who had diabetes to patients who did not have diabetes after a renal transplantation.
For this study, TheragenEtex supported a research team of the Kyung Hee University Hospital at Gangdong while taking charge of Genotyping.
Through this process particularly, TheragenEtex helped being the study to an end without any difficulties in analyzing and interpreting genomes by providing high quality analysis services and academic support in the form of internal genetic specialists.